What is Levitra?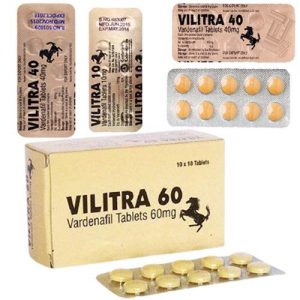 Levitra is a brand (trade) name of a drug with Vardenafil as its active substance. This substance was developed to manage erectile dysfunction by the pharmaceutical company Bayer Pharmaceuticals.
Vardenafil was the second PDE-5 inhibitor after Sildenafil (Viagra). Levitra is used to manage mild to moderate erectile dysfunction.
As other PDE-5 inhibitors, Vardenafil does not induce erection without sexual stimulation. Levitra widens arteries and blood capillaries in the genitals and increases the blood flow during sexual stimulation. It helps to induce and maintain a strong erection during sex.
Levitra was approved by the U.S. Food and Drug Administration (FDA) responsible for control and supervision of food, dietary supplements, and drugs in 2003. It means that Vardenafil is effective and safe.
What you should know before taking the drug
Erection is a complex process involving a coordinated work of the brain, nerve cells, hormones, and vessels. Erectile dysfunction can be a sign of such diseases as heart disease or diabetes. Erectile dysfunction is also believed to be the symptom of stress and anxiety. It can also be a side-effect of some medical drugs. Nervous disorders including multiple sclerosis and Parkinson's diseases are also the symptoms of erectile dysfunction. So when you notice erectile dysfunction, consult your doctor to find out the cause.
Levitra interaction with other drugs. Contraindications
Before you start taking Vardenafil, consult your doctor and notify him or her about all other drugs you are taking. Taking Viagra with certain other medicines can cause serious consequences dangerous to your health.
Do not forget to tell your doctor about your current conditions if any. The following signs and conditions should be considered:
Allergic reaction to any drugs of the same action, foods, and substances. Common allergic signs are itchy skin, rash, shortness of breath, whizzing, swelling in the face, throat, lips, tongue, cough.
Cardiovascular diseases, for example,  hypertension, hypotension, angina, problems with heart rhythm.
Chronic or hereditary eye diseases, for example, primary pigmentary degeneration of retina.
Chronic liver and kidney diseases.
Heart attack within 3 months (90 days), pain in the chest during sex or other physical activity.
Health problems that make sexual activity unsafe.
Avoid taking Levitra if you are already taking nitrates as your blood pressure may suddenly drop to a dangerously low level due to an extreme widening of peripheral vessels. Among the nitrates are  nitroglycerine, isosorbide mononitrate and dinitrate, recreational drugs "poppers".
Do not take Levitra with other PDE-5 inhibitors such as Viagra (Sildenafil), Stendra (Avanafil), and Cialis (Tadalafil).
It is not recommended to take Levitra with other drugs for erectile dysfunction without medical consultation.
Using Levitra with grapefruit and grapefruit juice may cause undesirable side-effects due to interaction.
People aged over 65 should take Vardenafil with caution. Older adults are in a higher risk of adverse effects.
Side-effects
When taking Vardenafil, the following side-effects may occur:
Stuffy and runny nose, headache, muscle pain, backache, pain in the arms and feet, flushing, indigestion.
Low blood pressure, insomnia.
Rare: as a result of decreased blood flow to the optical nerves, temporary sudden loss of vision may occur. People aged over 50, with diabetes, suffering from cardiovascular diseases and high cholesterol, having vision disorders are in a group of risk.
Rare: painful erection that lasts more than four hours may occur.
Patients with chronic kidney or liver diseases, diabetes, cramps, those taking other drugs are in a group of risk. They should take the drug with caution.
Side-effects of Levitra that require medical consultation
Serious adverse effects of Levitra rarely occur. However, you should also be aware of symptoms that require that you see a doctor immediately:
Symptoms of allergic reaction such as itchy skin, rash, skin and mucosal redness and edema, flaky skin and blistering.
Difficulty with breathing and swallowing, mental confusion, difficulty with speaking, loss of coordination, swollen throat and mouth.
Pain in the chest, irregular heart rhythm, chest tightness.
Lightheadedness, severe headache, faintness.
Vomiting and indigestion.
Loss of vision or hearing, ringing in the ears.
Shortness of breath.
Swollen extremities.
Fever.
Hematoma and bleeding.
Dosage and use
Levitra is a prescription drug and you should strictly follow the dose your doctors prescribed. Do not increase or decrease the dose of Levitra and do not take it for a longer period than it was recommended by your doctor. Do not split Levitra tablets, the entire dose should be taken.
The recommended starting daily dose of Levitra is 10 mg. The dose may be increased to 20 mg or decreased to 5 mg as recommended by the doctor based on individual efficacy and tolerance. The maximum daily dose of Levitra is 20 mg.
People aged over 65 years old should start with 5 mg of Levitra.
Take Levitra at least an hour prior to sexual activity. You should not take this drug more than once a day. It means that you should wait at least 24 hours before taking Levitra again.
Levitra may be taken without regard to food.
It is recommended to reduce the dose of Levitra for people with kidney diseases. In severe cases, avoid taking the drug and consult your doctor.
A reduced dose of Levitra is prescribed to patients with mild to moderate liver disease. In severe cases, avoid taking the drug.
Please, remember that Levitra does not induce erection. The drug works only in the presence of sexual stimulation.
Levitra generics — what is it?
Generic is a drug that contains the same chemical substance as the drug that was originally developed.
Developing a new active substance, a pharmaceutical company carries research and tests. When the drug is approved, the company obtains a patent that gives it an exclusive right to sell the drug. Other companies are not allowed to manufacture their drugs with the substance developed by a different company.  When the term of the patent expires – usually 12-17 years since the date the drug entered the market – any company is entitled to manufacture drugs with the same active ingredient as the drug that was originally developed. These drugs are generics.
The company Buyer has an exclusive right to manufacture Levitra (Vardenafil). Its patent expires in autumn 2020 and it may be extended. Otherwise, after 2020 other drugs with Vardenafil may be introduced to the market. These will be legal generics sold under a different brand name.
All generics are also tested and evaluated to be approved by the FDA. This is a long and expensive procedure. But it guarantees that generics are safe and as effective as the original drug.
In third countries companies often ignore the patent law and they may manufacture their drugs while the patent is still in force. Of course, these drugs are not tested and their safety is under question. Still, there is demand for generics as they are cheap and easily available. One does not have to get a prescription to buy them. Cheap generics are popular both in developing countries and in the countries of the western world. One may buy generics in illegal online drugstore.
The main source of illegal generics is India.
The main problem with these drugs is their unexpected and serious adverse effects.
Where can I buy Levitra?
Officially Levitra is a prescription drug. Pharmacies require a prescription to sell the drug. Online pharmacies require a copy of your prescription.
Indian generics of Levitra are sold at low prices in online drugstores. Men with erectile dysfunction are often too confused to go to a doctor to get a prescription so they prefer to buy a generic online.
Men with no erection problems buy Levitra generics to make their sex better and to impress their partner.
Conclusion
Levitra is a popular drug to treat mild to moderate erectile dysfunction. It is second only to Viagra and Cialis. Levitra is popular in European countries maybe because  Bayer Pharmaceuticals was founded in Germany.
Levitra helped many men in Europe and around the world to become confident again and improve their sexual life thanks to its efficacy and not significant side effects.