What is Sildenafil?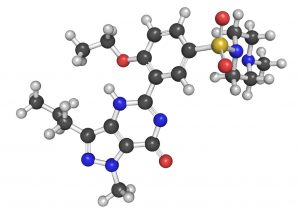 Sildenafil or Sildenafil Citrate is a substance with a beneficial effect on male sexual vigor. Sildenafil increases blood flow to the pelvic organs including the penis. Due to this property, Sildenafil is used for erectile dysfunction.
How does Sildenafil Citrate work?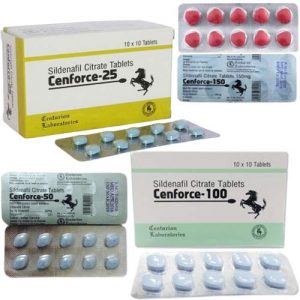 In our body, there are many enzymes including cGMP-specific phosphodiesterase type 5 or PDE-5. It breaks down cGMP and prevents relaxation of smooth muscles. The inhibition of this enzyme helps to increase the level of cGMP. The muscles relax, the blood flow improves and the vessels widen.
PDE-5 is found in large concentration in the lungs, retinal tissue and the penis. Due to this, Sildenafil has a positive effect on these parts of the body.
Sildenafil Citrate is a PDE-5 inhibitor.
Sildenafil interaction with other drugs. Side effects
Before taking Sildenafil, consult your doctor and notify him or her about other drugs you are taking and about your current conditions.
Do not take Sildenafil if you are already taking nitrate drugs as it can cause a sudden and serious drop in blood pressure.
Grapefruit or grapefruit juice may interact with Sildenafil and lead to unwanted side effects.
The following side effects may occur after taking Sildenafil:
Backache, muscle pain, headache.

Indigestion and digestive disorders.

Low blood pressure, runny and stuffy nose, nosebleed, insomnia.

RARE:

as a result of decreased blood flow to the optical nerves, temporary sudden loss of vision may occur. People aged over 50, with diabetes, suffering from cardiovascular diseases and high cholesterol, having vision disorders are in a group of risk.

RARE: painful erection that lasts more than 4 hours.
Sildenafil dosage and use
The recommended starting dose of Sildenafil for most of the patients is 50 mg. It can be changed depending on the individual efficacy. If the effect is not good enough, the dose may be increased to 100 mg. If you need to minimize side effects, the dose is reduced to 25 mg. The maximum dose is 100 mg. It is not recommended to take Sildenafil more than once a day.
Take Sildenafil at least an hour before your sexual activity. It is not always possible to know exactly when you are going to have sex but you should know that this drug has shown to improve erectile dysfunction from 30 minutes and up to 4 hours after you take it.
Sildenafil can be taken with or without food.
Remember that Sildenafil induces erection only in the presence of sexual stimulation. The medication itself does not induce erection.
Sildenafil generics
When some company manufactures a drug using already known active substance, the drug becomes a generic.
A drug developer spends a lot of time and money on research and development. It conducts laboratory and clinical studies and numerous safety tests. If the substance shows good efficacy and safety, it is used to develop a new drug.
The drug developer obtains a patent that gives it an exclusive right to manufacture and sell the drug. It helps the company to recover its expenses.
When the term of the patent expires, other companies are entitled to manufacture drugs with this active substance.
Sildenafil Citrate was developed by Pfizer and its patent has been extended until 2020. It means that only this company is formally allowed to manufacture drugs with Sildenafil. The name of the original drug is Viagra.
Actually, there is Viagra generic manufactured by Teva under the authorization of Pfizer. But this is an exception rather than a rule.
There are many illegal Viagra generics most of which are of the Indian origin. The Indians ignore the international patent law.
Markets of third countries are flooded with various Viagra generics. The most successful analogs enter the markets in developed countries.
Why do people buy generics from India? First, they are cheap. Second, original Viagra is available only with a doctor's prescription. Not all men can confess that they have erection problems. They prefer to buy online without a prescription.